ASA's Words of Wisdom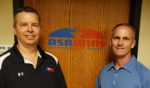 This has become a very popular article for our clients and will remain a staple on this website. For those of you who have never read it, we strongly suggest you do. For those of you who have already read the article in the past, we suggest you do it again. Here goes:
More often than not, a winning season has as much to do with money management as it does picking winners. You show us a player with 60 percent winners and on the plus side and we'll show you 10 guys with the same games (60 percent winners) but down money. The reason for this drastic difference is simply one word:DISCIPLINE.
To prevent this from happening, we'd advise a unit system based on your purse. Your starting purse should be the maximum dollar amount you can afford to lose for the season. You must set this amount aside and stick to it. You should never wager an amount that would change your lifestyle, win or lose.
We'll set up a hypothetical purse of $6,000 for the upcoming season. First of all, do not exceed $600, or 10 percent, of your purse, on the opening weekend. In fact, you should never wager more than 10 percent of your total purse on any given weekend. Second, you must establish a unit or star system for the games you wager on. We will do that for you if you join ASA's football selection service. This part of handicapping is crucial and could mean the difference between a winning and losing season. Now back to the wagering.
Let's say for example we have a 3-, 4-, and 5-Star play for you in college football. Your opening purse is $6,000 so you do not want to wager more than $600 for the weekend. We have a total of 12 stars. You will divide the $600 by 12 to get the amount you should wager per star. In this case it comes to $50 per star.
Now let's say we win our two higher-rated football picks and lose our 3-Star selection. You will win $250 on the 5-Star selection, $200 on the 4-Star, and lose $165 on the 3-Star (10 percent juice figured into the loss). Your profit for the weekend will be $285, which is now added to the $6000 purse. The following weekend you will use the same formula but with a total purse of $6285. This means you will be able to wager $628 for the second weekend (10 percent of total purse).
It is imperative to use discipline and never exceed 10 percent of your purse. This system allows you to play more when you win and less when things aren't going as well. If you're the type of person who likes to double and triple up after a win or loss, you will find it's just a matter of time before your purse is gone.
If you have any questions don't hesitate to email us at
sports@asawins.com
or call us at 1.888.272.1098.
Image
Name
Description
Categories
Price
Buy
hf:categories

ASA 365 day's ALL SPORTS Membership Pkg Every sport, Every day!
NFL, NCAAF, NBA, NCAAB, NHL, MLB this gets you everything we have to offer! Get …

ASA

,

ASA Football

,

ASA Basketball

,

ASA Baseball

,

ASA Hockey

$

399.00
asa asa-football-packages asa-basketball-package asa-baseball-packages asahockey

ASA MLB FULL SEASON PACKAGE - Discounted Rate!
Make this purchase and receive EVERY MLB PICK ASA has to offer for the entire …

ASA

,

ASA Baseball

$

850.00
asa asa-baseball-packages

ASA's 7-DAY OF ALL SPORTS PACKAGE - Basketball & NHL wagers
Make this purchase and receive all of ASA's basketball picks, both college & NBA for …

ASA

,

ASA Football

$

85.00
asa asa-football-packages

ASA's ALL INCLUSIVE NBA BASKETBALL PACKAGE - thru the Finals in July
**WINNING COLLEGE & NBA SEASON!** Get every basketball pick ASA has to offer for through …

ASA

,

ASA Basketball

$

295.00
asa asa-basketball-package

ASA's MLB FULL MAY PACKAGE - Bets daily!
For just $199 you can receive all of ASA's MLB picks for the entire month …

ASA

,

ASA Baseball

$

199.00
asa asa-baseball-packages